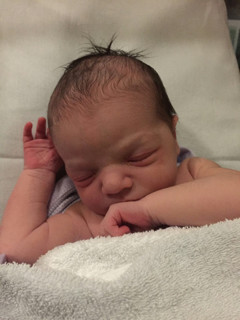 The role of a Postnatal Doula is to 'mother the mother'. Very similar to a Maternity Nurse, but less focussed on the baby, which means I am there to listen to the mother and address anything that is on her mind, big or small. From emptying the dishwasher, putting on a load of washing to assisting with feeding or looking after baby while mum has a rest or just some time to herself.
I am also there to help the mother gain in confidence when it comes to getting out and about with her baby or babies, accompanying them to baby clinics or classes, the supermarket or anywhere else.
Emotional and practical support are supplemented by my experience as a Nanny and Maternity Nurse, but if for any reason I am unable to help I signpost the family to outside assistance and/or information.
A massive thank you to my postnatal doula Ailsa Holmes who, after nearly 5 months, spent her last day with me last week. It is a bittersweet goodbye as it means I'm feeling confident with my twins and getting some sleep but I'm also very sad to see her go.

Ailsa has helped me for a couple of hours a week since my twins were 6 weeks old. She has been a huge support physically, emotionally and practically, making lunch and tea and bringing cake, taking a twin (or both) off my hands, listening to and empathising with my rants and frustrations, and advising me on routines, feeding, settling, sleeping, relating, weaning and all manner of other issues we all face having twins (and a toddler!)

She will still be my SOS call every now and then I'm sure, and I'll continue to turn up at her house for tea and cake every Tuesday at twins club until my boys are mobile. But, for now, I cannot recommend her highly enough – just writing this makes me realise how much I've needed her and will miss her! Thanks Ailsa, much love xxx – Beth
A Postnatal Doula's aim is to do themselves out of a job. A family may need daily help to begin with, but as the transitional period progresses, everything settles and confidence blossoms and I am needed less and less. Eventually the mother feels empowered, confident and capable on her own.
A doula's role is to help you to discover how YOU want to do things. I believe that it is important not to impose our views about parenting on you, but I can help you find out about different ways of doing things.
I know that I will never know everything about being a doula, and that I will learn something from every family I meet.
I work in Wokingham, Bracknell, Reading, Woodley, Crowthorne, Twyford, Ascot, Sandhurst, Yateley, Finchampstead, Winnersh, Earley and other parts of Berkshire and Surrey.
Costs
£15 per hour
£5 supplement to cover fuel costs for journeys of 30 minutes or more
In cases of dire need, please contact me, as I am willing to negotiate my prices in order to reach parents who would really benefit from some help.